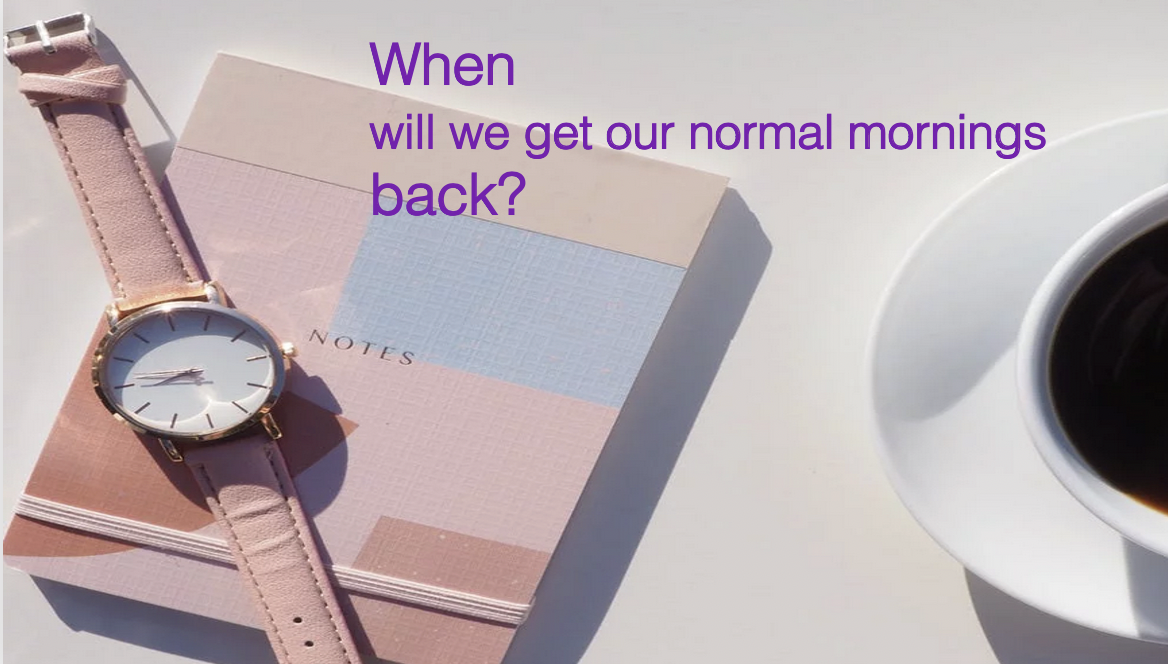 When will this crisis end? Update:04/25/2020
As I am writing this, the death toll from the Covid-19 in the USA has crossed 53,000 and the total confirmed diagnosed cases have crossed 900,000. Worldwide, the total death count is currently 201,900 and confirmed cases are 2.87 million. Today is April the 25th, 2020.
The sound of silence
Imagine a world where there is no Covid-19. You cannot imagine this, right? But, this was what we used to know as normal! It was only a few months ago, but not anymore. A tiny viral particle of around 90 nanometer in size, which we cannot see with our naked eyes, has created the most deafening uproar of misery and panic in recent recorded human history. The earth has become an echo-chamber of voices expressing mass concerns, fear, uncertainty and desperation. All other discussions are in a silent mode, except something that relates to the virus. That is the new reality now.
A metaphor for fear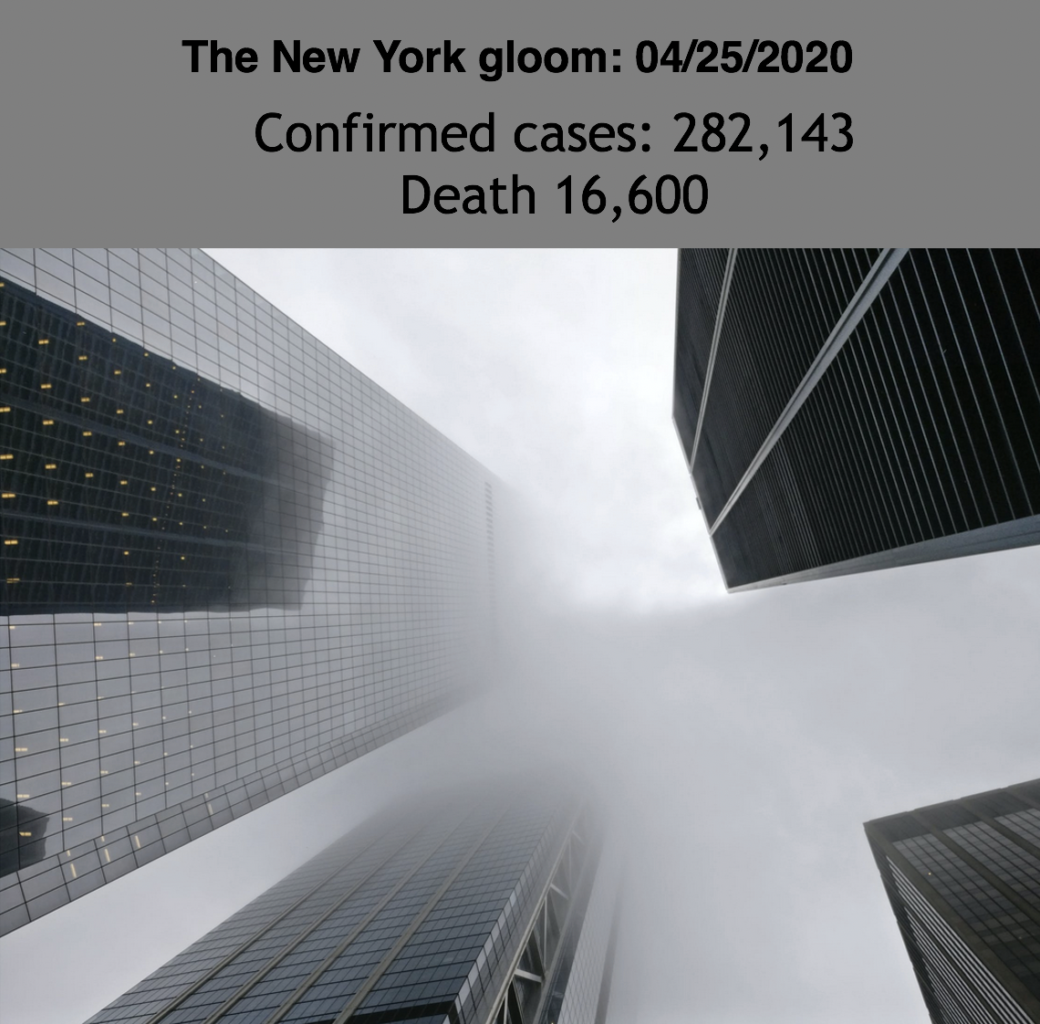 Novel Covid-19 has now become the metaphor for fear. The question everyone has on their mind: when is this going to end? How long are we going to be locked inside our houses? How long do we have to keep a sanitized distance from our children, family, or our spouses? We need to earn a living to stay alive!! When can we breath normally without layers of masks and without fear?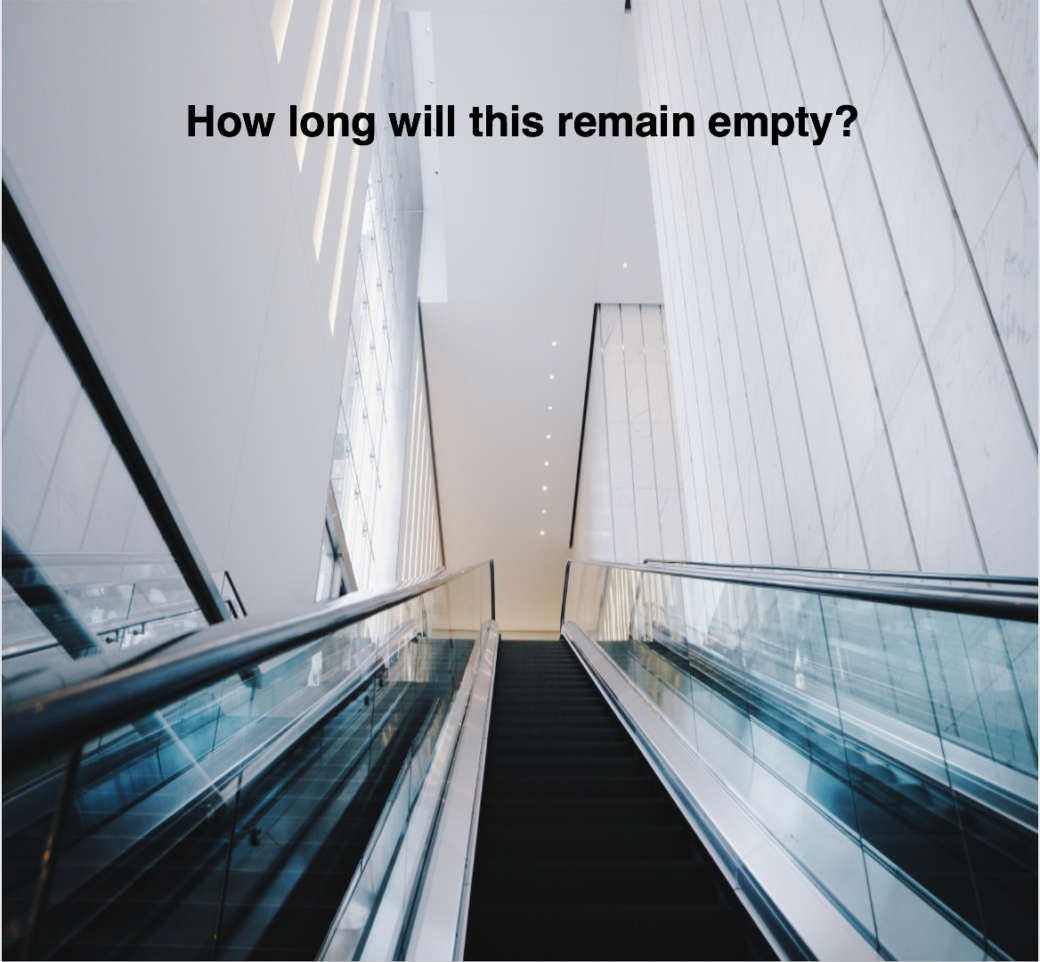 No one has the answers to these questions with great confidence. Some states are tip-toeing towards partial opening from a complete shut down, understanding the potential risks involved by opening up too soon. In the meantime, hot-spots like New York city remain closed. The Hudson river navy pier continues to be quiet and empty, without any visitors waiting in lines to go on a river trip to enjoy the Manhattan skyline. Instead, you see the US navy hospital-ship "Comfort" floating on the choppy Hudson waters like a giant white swan to rescue people of New York city, in case there is a need. The busy Jersey City roads are now quiet and desolate, only to be disturbed by occasional ambulances and the soft foot steps of crossing wild geese.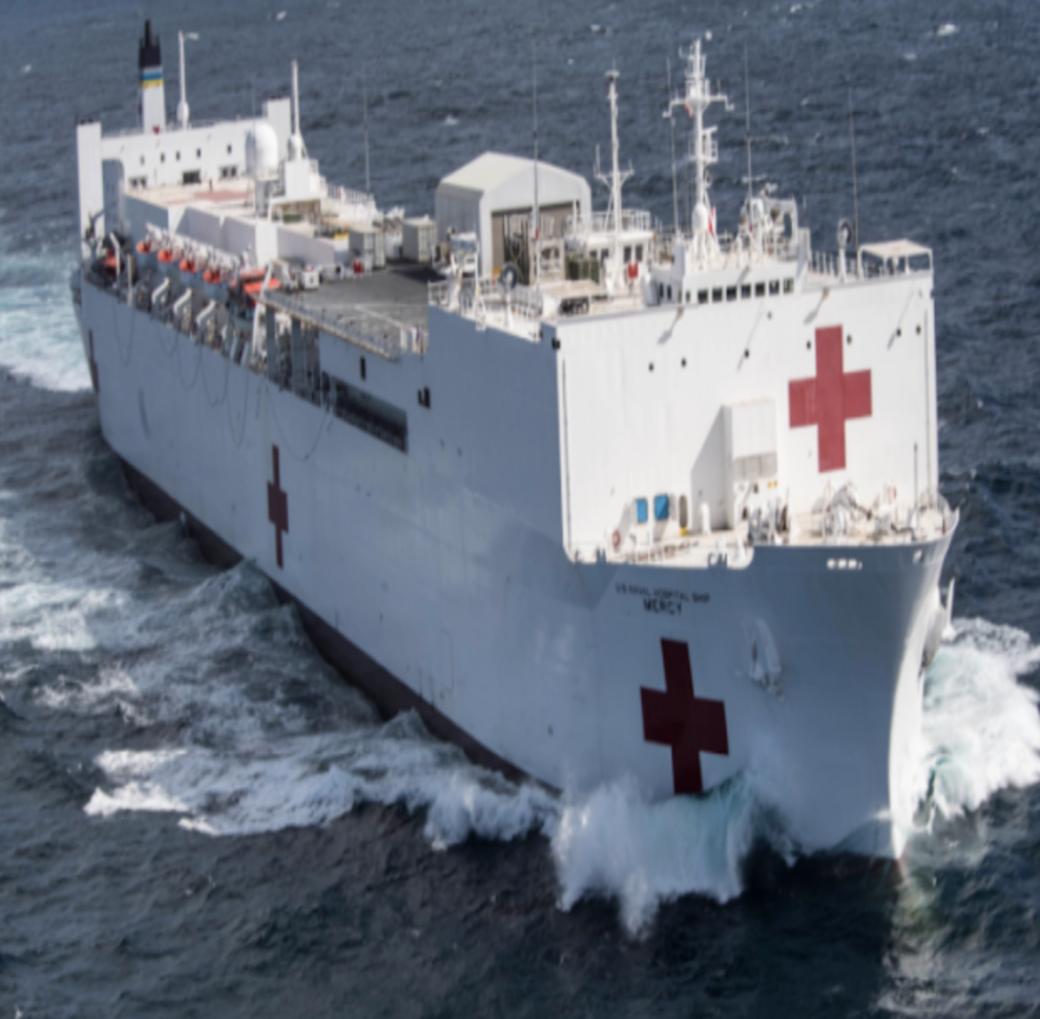 How Covid-19 has changed Medicine
The modes of practicing medicine have been profoundly transformed overnight with the aggression of the Covid-19 virus. Outpatient clinics are mostly closed. Doctors are taking telephone calls from the patients rather than visiting them in the office. Tele-medicine practices are booming. Surgeons have postponed their elective surgeries including non-emergent orthopedic surgeries in most hospitals. Many medical practices have cancelled outpatient appointments and elective procedures and have laid off their employees. With the Covid-19 pandemic, I can see the visible cracks in the resilience of US healthcare industry.
Patient satisfaction scores
Inside the hospitals, patient satisfaction is in decline. No family members are allowed inside the hospitals. Patients stay in their rooms without seeing any family members for days. There are i-pads in each room to do video calls with the family, but many elderly patients are not able to use this technology anyway. A physician's habit of sitting on a chair by the patient's bedside is gone for now. With masks, which cover half of the faces of the doctors and nurses, the smiles and worries go unnoticed by the patient. The patients who rely on lip-reading to aid their poor hearing, cannot follow the lips anymore. We often see them failing to follow the conversation.
A glimpse inside the ICU
You can create a mental image of the inside of an ICU room with Covid-19 patient. This has to be a well-sealed negative pressure room. You can hear a variety of spooky noises coming from different machines in the room. The air pressure control system, the alarm sounds of the ventilator machine, the EKG telemetry alarms with different tones and the ventilator machine giving artificial respiration to the patient. All these mingle with beeping trouble-shooting noises of of the IV machines. The patient remains medically sedated or artificially paralyzed. The patient continues to struggle to stay alive. The protective gear we wear gives us the look of Darth Vader's robot soldiers in their white outfit from Star Wars. Our voices sound muffled, as if coming from behind the garb of an outer space alien. We try to minimize our presence inside a Covid-19 room. When nurses are inside the the room, some of them mirror-write their needs on the glass door or the wall of the ICU cubicles. This minimizes the need to open the ICU door and reduces the potential for spreading the infection.
The mirror writing
I had never heard of mirror writing until now. It is a technique of writing in the reverse direction of the natural way of writing. The result is a mirror image of the words intended to be written. The writing will appear normal when it is reflected in a mirror or if looked from the other side of the glass it's written on. It helps the nurses avoid touching and infecting their phones while communicating.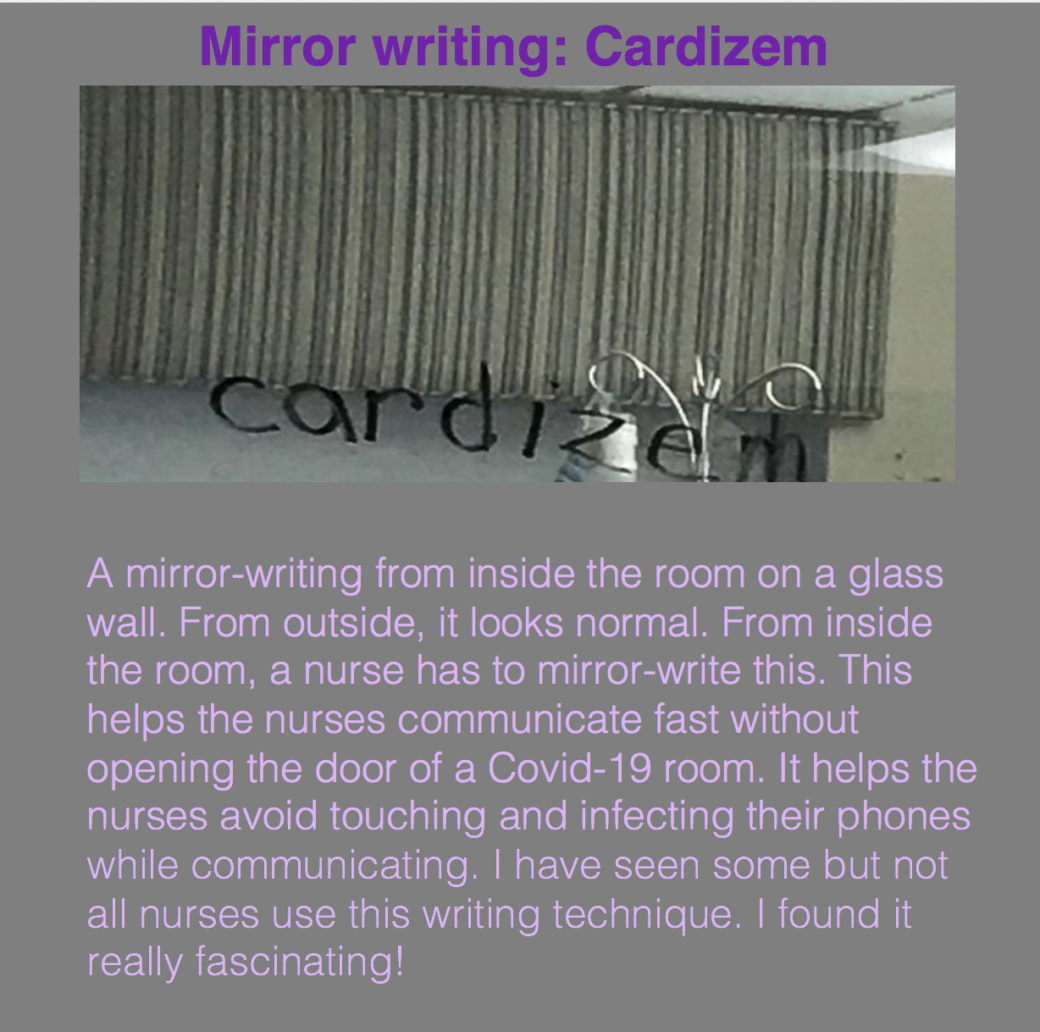 What we know so far
As the world is coming to the frightful realization of a future living with Covid-19 in some shape or form, the physicians know that they will have to continue on the frontline in this new war. That is not a comforting thought. We are now in adjustment mode, rushing to stay ahead of the curve. We are preparing ourselves for the future flu epidemic and Covid-19 combinations, a potentially lethal cocktail of viruses as early as this coming fall. Frenetic searches for a cure and vaccines for the virus are ongoing across the continents. The enthusiasm for the the highly politicized "miracle drug" hydroxychloroquine is now fading. Remdesivir is another drug which is going through rigorous multi-center trials, showing some promising results. Convalescent plasma has been used, and the data is pending. Vaccines are still at least more than a year away. This has now become an every second struggle using every bit of expertise that humanity has.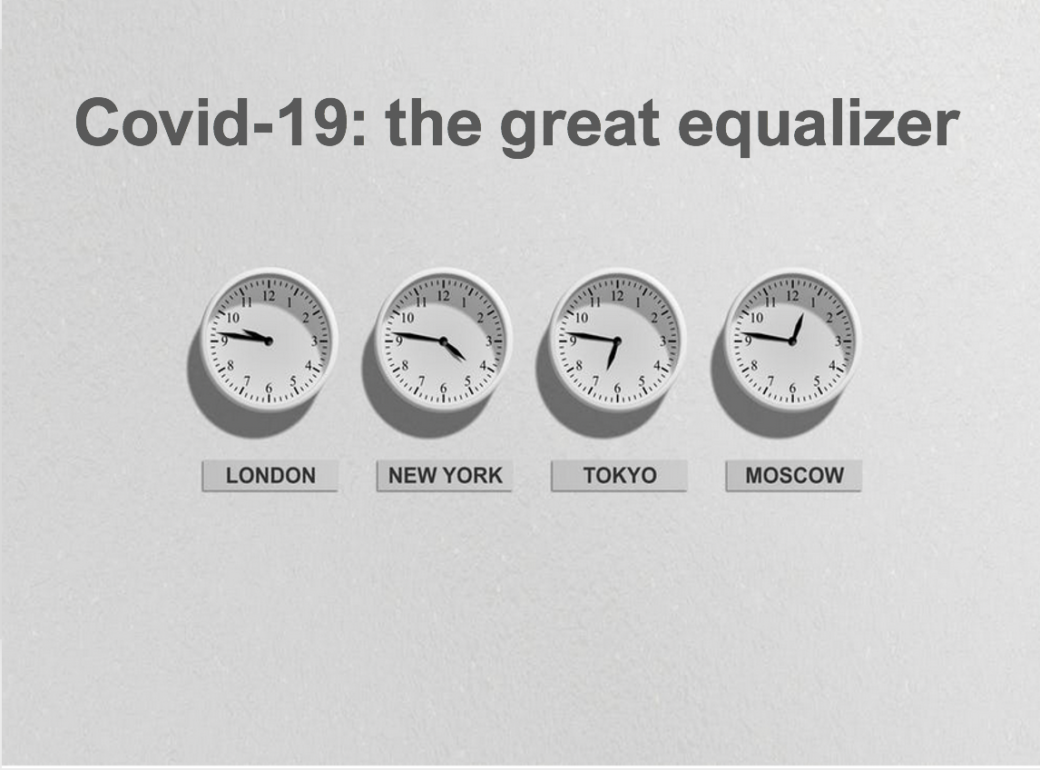 As a physician, I deal with death, disease and the emotional devastation of people everyday. This is what we do and this is what we signed-up for. What makes the Covid-19 virus different from most other health disasters, is the sheer scale of this brutal and ruthless war. Not only, are the physicians and nurses fighting to keep Covid-19 patients alive, but they are also trying to save themselves from being victims of the same. This is something we have never experienced as physicians.
Value of little things in our life
A time of crisis has great lessons for humans. It teaches us how to express our empathy, altruism and compassion, which are the bright sides of our human nature, and helps us to become better individuals. It teaches us humility. A crisis of the current magnitude reminds us to value the little things in our lives. Like, walking in a park and taking a deep satisfying breath. Or, being close to our friends and families around the dining table. Hugging our loved ones or holding their hands. We all take our good times and good things for granted.
We are all in it together
This crisis has effected all of humanity. We are all in it together. We need to watch out for all humanity, starting with our own families, our neighbors, our fellow human beings, irrespective of political affiliation or racial orientation.
We should not stigmatize any race or nation for this current crisis. We should exchange experiences and scientific ideas from all the doctors and scientists across the globe and direct our effort to get an effective vaccine and a medical cure for this disease.
WHO is a vital organization helping the world's poorest of the poor to tackle the Covid-19 infection. If there are problems with the WHO administration, these should be addressed by appointing an international watchdog. Holding funding for WHO at this time of crisis is not the solution to the problem. Ultimately, it will lead to the suffering of the poor around the world.
Covid-19 update: 04/10/2020
How are the Physicians coping with Covid-19 in U.S hospitals?
Cherry blossoms in fear
The morning roads are eerily empty on my way to the hospital. Crispy spring mornings are my favorite time. Sprouting blossoms and budding twigs are flourishing in the wild and on the rolling hills. Along the road, the strip malls are empty. Few relaxed deer with their playful bambinos are enjoying an uninterrupted sun-bathe in the empty parking lot. The morning rush hour has been replaced with the intermittent hustle of cars. The traffic lights are changing as lazily as ever, without the eager drivers hurrying behind the red lights. Shops are closed on each side of the road, no one knows when they will be open again.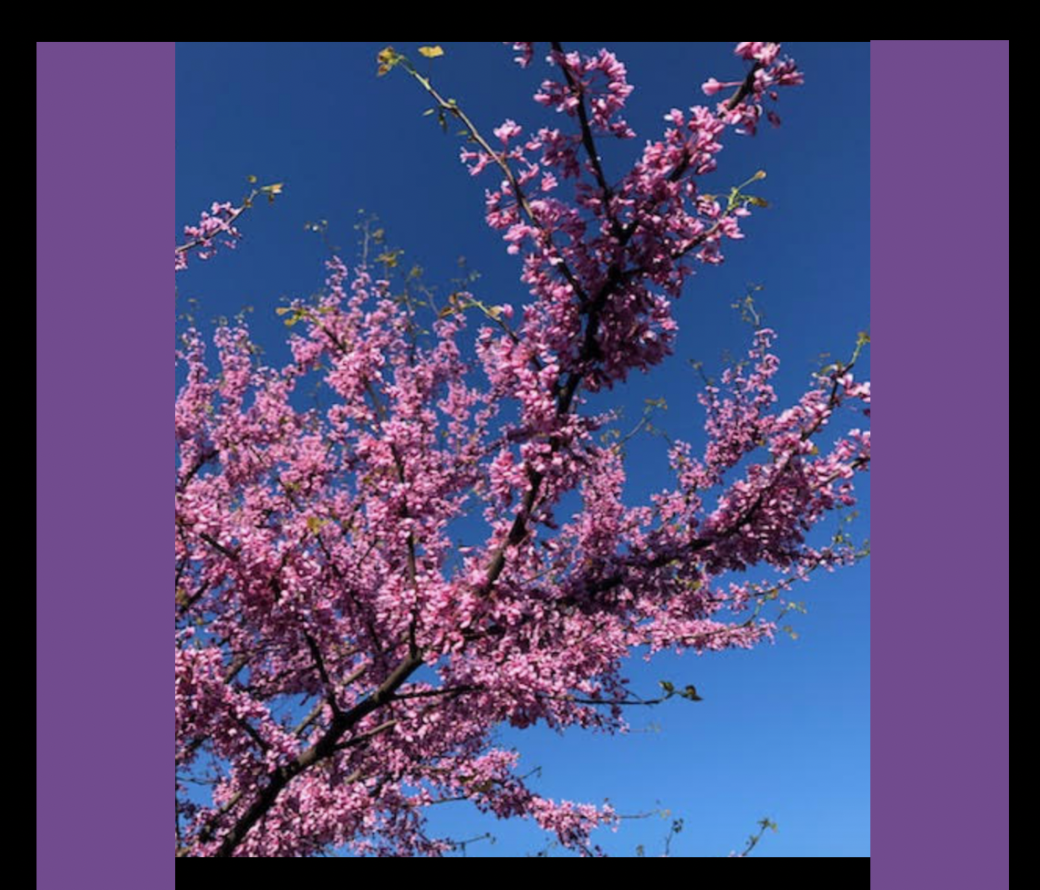 The valley of death and desperation
The serenity of the sparkling morning does not reveal how deceptive the spring-inspired floral beauty is and how much fear is hidden underneath it's veneer. Today, 04/10/2020, the death count from Covid-19 has exceeded 16,000 in the USA and 100,000 worldwide. My hospital in Montgomery county, a suburb of Philadelphia, is considered to be a hot spot for Covis-19 infection in the state of Pennsylvania. At this point, most of my patients are Covid-19 related admissions. We are now getting the test results back within 24 hours, which is way better than the 5 days it used to take 4 weeks ago.
The high number of false negative Covid-19 test results remain a big problem. Many of our patients who initially tested negative turned out to be positive with a repeat testing. We are repeating the Covid-19 testing if we have a high clinical suspicion for the disease, despite the initial test result being negative.
Pandemic memories: sad and unforgettable
The other day, my ninety some years old patient was dying from Covid-19 infection. His life support machine had been discontinued as he was now in hospice care. Covid-19 infection converted his natural spongy lungs into a stiff, fluid filled mass due to inflammation and infection. His lungs could no longer carry the oxygen to keep him alive, despite the fact that he was on ventilator support.
Don't touch my hands!
From behind the glass panels of the ICU cubicles, I saw him taking his last few breaths. He did not have any loved ones beside him to say good-bye. No family members were sitting or holding his hands. Visiting loved ones at the death bed is no longer an act of love. Rather, this can be a risky and life threatening venture as the deadly virus can get inside the body of the visitor. Hospitals are not allowing any visitors to see their loved ones. Hugging and kissing can equate to kissing the angel of death. That is what life is now.
My patient was lucky enough that his family did not disclaim his body out of fear of the deadly virus. Many families did. In New York, many unclaimed bodies are ending up being buried in mass graves.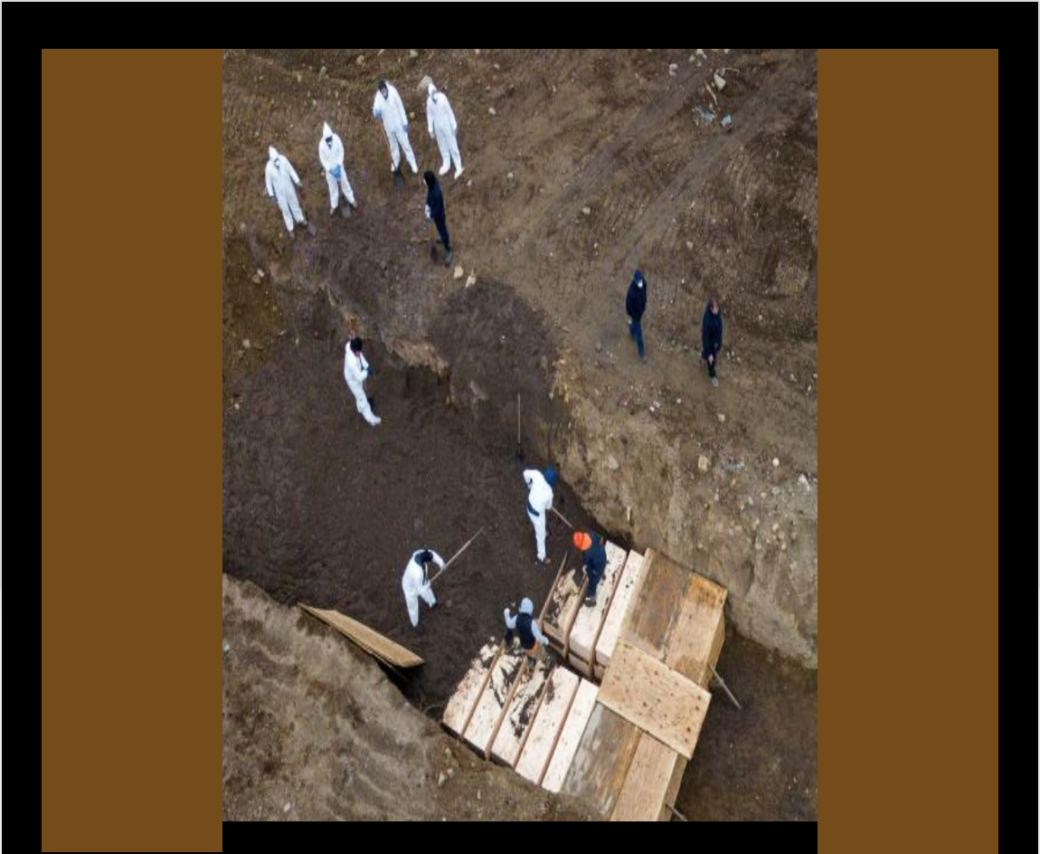 Winning the battle with Covid-19, losing the war of life
My cheerful young patient was recovering very well. He came with severe shortness of breath from the extensive pneumonia he had from Covid-19. His lungs were fighting back. After being in the hospital for a week, he no longer needed Oxygen. He was doing good otherwise and was ready for discharge. I discharged him, and he was to go home after his dinner. Later in the day, the nurse told me that the patient did not want to leave. He did not give the nurse a reason as to why. He wanted to talk to me. Trying to minimize unnecessary exposure with Covid-19 patients, I called him on his room telephone. What he told me was a typical example of why people living in close quarters, in congested environment in inner city areas have disproportionate impact from the disease.
My patient lives with his wife and their baby in a one bedroom, one bathroom apartment. I could see the reason why he would not want to go back to that apartment, knowing that he would not be able to protect his wife or the baby from his infection. He would not be able to maintain the safe distance, or avoid any form of touching, while living in the same room, using the same dinning space, kitchen and bathroom with his wife and his child. I really did not have any solution for the issues he was facing. I did what I could do in my judgment and in my capacity. I kept him another night in the hospital, and he left next morning with a plan to live in a hotel for a week until his quarantine is over. He will pay the hotel room with his credit card. He has just been laid off, so he would not be working or earning money for the foreseeable future.
What have we done?
Our planet earth now is literally, standing still. Seismologists in London, Brussels and Los Angeles have noted a reduction in their seismic noise measurements. This is due to the decreased vibration from the motorized machines, wheels and vehicles. There are no flights taking off, no sonic booms, no bulldozers. Satellites are witnessing the clearing up of the atmosphere below, showing a cleaner face of the earth. Mother earth is now able to breath. https://www.sciencealert.com/the-earth-is-moving-substantially-less-because-of-the-global-pandemic
Covid-19 and the planet earth
What have humans done to this planet? Our love for more wealth is sucking up the resources of the earth. Our machines are breathing poisonous gas into the air, making the atmosphere more toxic and hotter everyday. Our plastics are filling up the oceans, killing lives and nature. Our icebergs are melting. When we are caged in isolation and are muzzled with our N95 masks, then the planet can breathe a breath of relief. Is the Covid-19 virus nature's way of saying to the human species that your disservice to this planet is no longer needed? Are we the deadly virus to the planet as the Covid-19 virus is to us?
Looking forward to an unknown future
As I leave the hospital at the end of my day, my subconscious mind goes through a list of what I could have done differently to protect myself and prevent the infection from spreading. Tomorrow will be another day, another battle for survival. Hospital corridors, alleys are covered with posters with wishes for the doctors, nurses, E.M.Ts and others involved in caring patients: "You are our heroes" "We are with you""We love you" "You are in our prayers". Going down inside the elevator, I feel exhausted. I tend to lean on the wall of the elevator. Then I change my mind before my body touches the elevator wall. There may be invisible killer virus on the wall. Who knows who touched the wall? I don't want to rub the virus on my body and take them home! No way!!
Some resources that may be of help
Covid-19 update: 03/28/2020
How are the Physicians coping with Covid-19 in U.S hospitals?
Today is the March 28th 2020. At the present time, the virus has touched every state in USA, with New York exceeding a colossal 110,000+ Covid-19 cases with a total of 1800+ deaths in the USA. Even though many states are showing relatively few diagnosed cases of Covid-19 for now, they are preparing for the projected spikes in the number of cases in the coming days. Likewise, the governors of different states are appearing in the media and expressing their grave concerns, pleading with the Federal government for help.
"I'm okay. Don't tell Mom and Dad. They'll worry,"
This was the last message a nurse of a New York hospital sent to his sister. He was admitted with Covid-19 and went into respiratory failure, died while being treated. The ventilator support did not save him. He was working in the hospital with Covid-19 patients until he felt sick and then got admitted to the hospital. He was only 48 years old. https://www.yahoo.com/news/nurse-dies-angry-co-workers-122400056.html
Recovered and grateful
Last week, my first patient with Covid-19 was recovering from respiratory failure. He was off from the ventilator and was able to understand what was going on. His Covid-19 report took five days to come back, which was the norm at the time. We can get the test reports within less than 24 hours now. When he left the hospital next day, I heard his expression of great relief and gratitude from behind his mask. He said before he departed, "Thanks to God!" I said "Thanks to God and thank you for saying that!". Yes, we really need to appreciate more for every breath we take. We always take it for granted.
Sailing in desperation
As I am writing, the cruise ship Zaandam is trying to disembark passengers at a US port after it was turned away from Chile, which was supposed to be it's destination. With 1543 passengers on board, 140 of them having flu like symptoms and four people dead, the cruise ship is sailing off the coast of Panama, trying to disembark. The ports along the coast of South America have declined their requests to disembark. Zaandam is not the only cruise ship sailing aimlessly and trying to reach an accepting port. There are many others in the waters of the Atlantic and Pacific oceans, who are having same aimless voyages, not knowing what the future will bring. https://www.independent.co.uk/travel/news-and-advice/coronavirus-cruise-ship-deaths-zaandam
The spring no one hoped for
The spring-blooms are coming along with brightness and eloquence in Pennsylvania, New York and New Jersey. The chairs and the tables inside and outside the restaurants of New York, Philadelphia and Jersey City, which were usually bustling with tourists, are now empty. Public parks are deserted. Times Square in Manhattan is as flashy and glitzy as ever, without many people around in the streets to appreciate the glory. Does this sound like Déjà vu from a movie scene? I wish I could say "Yes!". But the true answer is "This is the reality for now".
A brother from Minneapolis, who lost two of his sisters from the Covid-19 is unable to mourn together as a family and continues to be in isolation. Elizabeth Fusco from New Jersey has two of her siblings, who are still on ventilators. Her family in New Jersey has lost four family members from Covid-19. She and her daughter survived and returned home.
The selfless nurses, the sleepless doctors and the other healthcare workers occupy the forefront of this war, doing the best they can. The east coast and the west coast are the worse hit, though the physicians and the nurses who are in the mid-west USA and remote areas of USA may be relatively spared from Covid-19 patients for now. Only time will tell if that remains the case.
When the human race is in such a dire state of affairs, do we have any room for political or any form of self- glorification? Should we continue our arrogance, selfishness and egoism to define ourselves and others? Haven't we demeaned others enough and divided humans by our cruel verbal assaults and convenient lies? These are the questions we need to ask ourselves. The self-reflection is not just for the current occupier of the White House, but also for all of us living in society.
Positive notes
Delta airlines giving free flight tickets to the healthcare volunteers. https://www.wilx.com/content/news/Delta-Airlines-offers-free-flights-to-medical-volunteers-569186731.html
102 Years old Italian woman recovers Covid-19.
Covid-19 update: 03/23/2020
How are Physicians Coping with Covid-19 in U.S hospitals?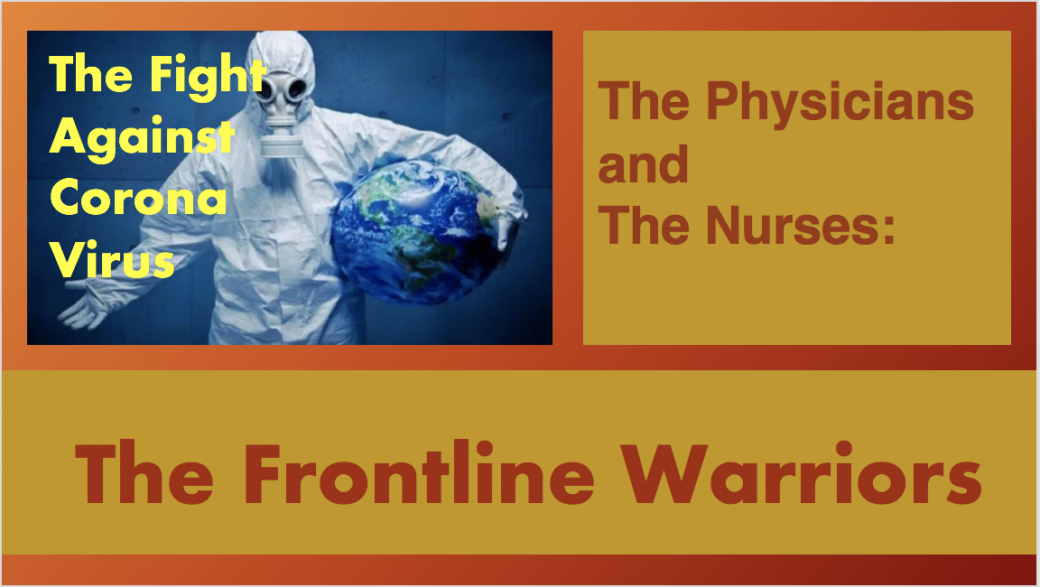 A battle has raged. In fact, this is a battle that human beings are not familiar with. This is something they have never experienced in their life time. The rapid spread of Covid-19 pandemic has posed an existential threat to humanity. Not to mention that the healthcare providers are the front line warriors in this battlefield, though, each member of the human family is a soldier in this unique battle. Until all the soldiers in the battlefield feel that their active participation is part of the winning strategy, and they act accordingly, this war cannot be won. It must be remembered that the Covid-19 is an existential threat to us and that we are all in this together.
Managing Covid-19: A Hospitalist Physician shares his experience.
How are Physicians Coping with Covid-19 In US Hospitals? As a Hospitalist Physician, my typical mornings are pounded with texts and pages that I get from the nurses and others with critical lab results, critical radiology reports, reports on patient conditions, rapid response calls and overhead pages for code blue.
The new norm is now, the additional texts and emails from the department of infectious disease and the hospital administration with new policies and strategies to tackle Covid-19. Changes in policies and procedures are happening in a matter of days or even in hours, to follow the updated guidelines from CDC, WHO and the health care provider's experience on the ground. Yes, this is a war zone and we are at the frontline fighting it.
Following are some adjustments and changes in daily practices that I am, and other physicians are getting used to:
Decontamination
Taking a seat in front of a computer work station is no joke nowadays in a hospital. I have to change my workstation for indefinite number of times in a given day, as I have to move back and forth between patient's rooms in different floors of the hospital. Each time I change my workstation, I have to follow a whole battery of decontamination for the new station.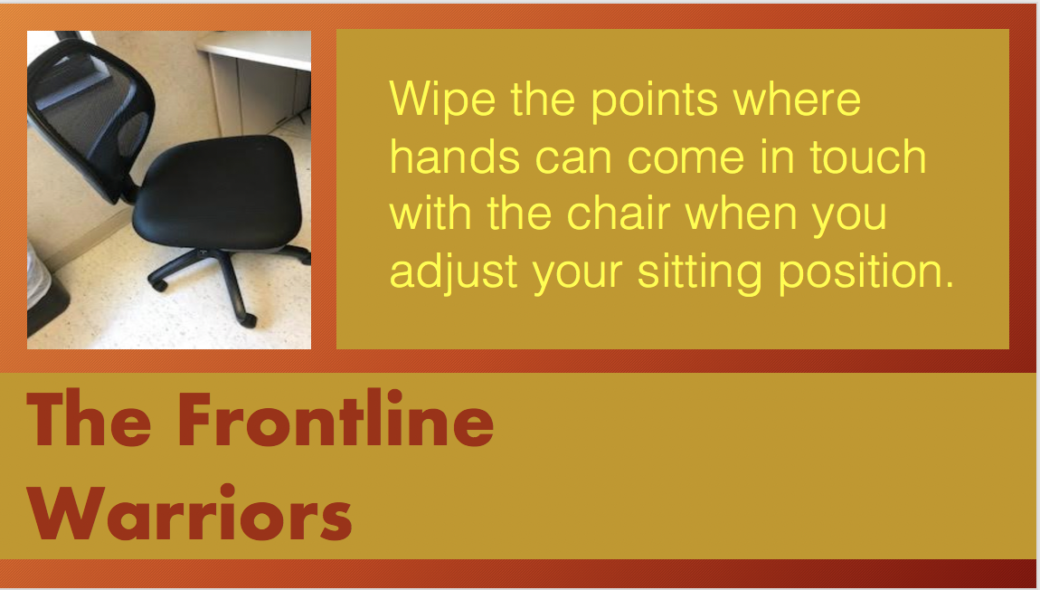 Getting inside a patient's room
Getting inside the room of a patient with Covid-19 virus infection is not only a technical nightmare, it is also a psychologically unnerving experience. Getting inside the room of a patient who is waiting for Covid-19 test result, is as difficult and as time consuming. The following are my rituals prior to entering one of these patient's room.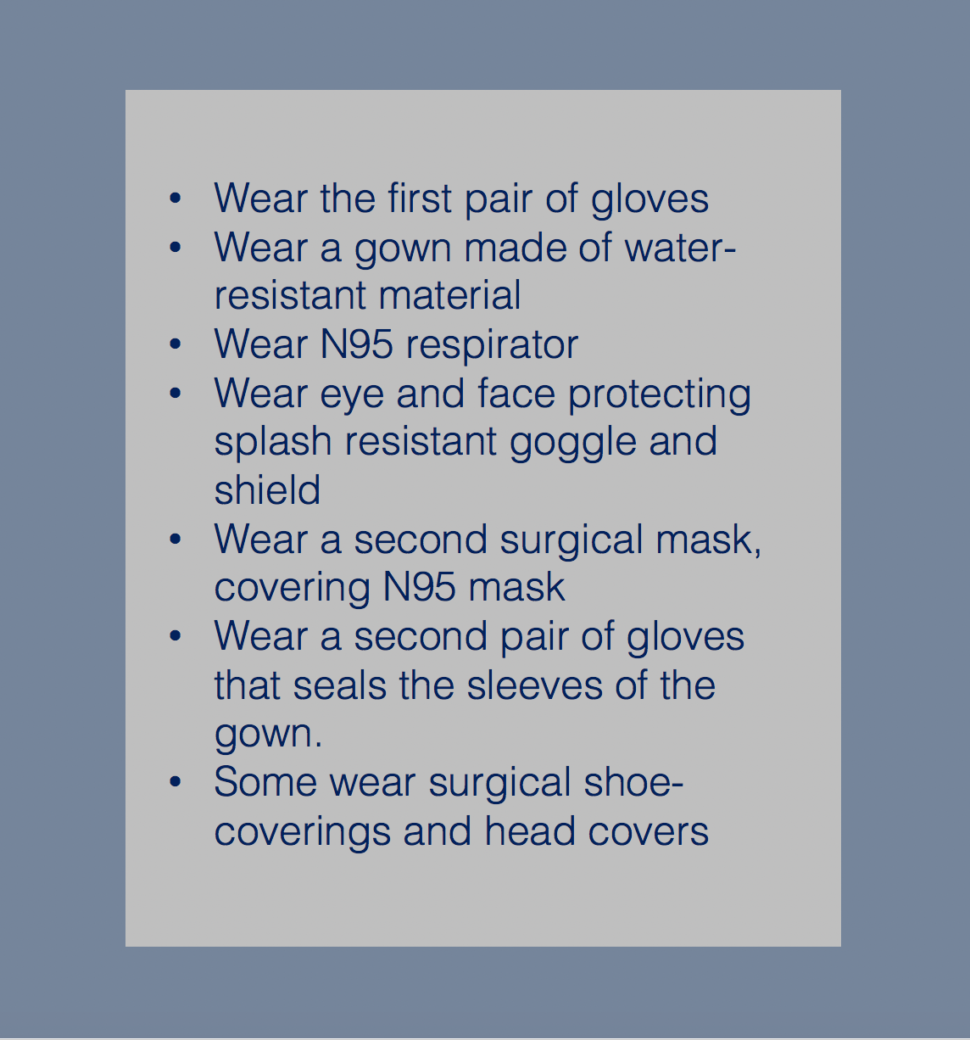 Once I get inside the room of the patient, I close the door immediately behind me. If this is a negative pressure room, then I have to go through a second door before I can be with the patient, who is likely mortally anxious from the diagnosis of Covid-19 infection with associated complications. My war-suit does not help to comfort the patient even a little. I can hear my muffled voice, as if from a distance, coming out of two sets of masks. Since my face is almost fully covered, some of the older patients who depend on lip reading to aid their poor hearing, often fail to fully understand the verbal communication.
A front line warrior with a mask
I feel somewhat short of breath after talking for a while through the N95 mask, as it makes a seal around my nose and my mouth and limits air exchange. I have to re-breathe mostly my exhaled air. I feel the urge to take N95 mask off, but I can't. I force myself to stay inside the room, make my visit as precise and as quick as possible. Once I come out of the room, I remove my coverings with a systemic peeling of the layers to minimize the risk of taking the infection outside the room.
A grave responsibility shared by all
While planning a treatment strategy for a diagnosed Covid-19 patient is the responsibility of medical professionals, the containment of the virus from spreading in the community is a responsibility of the people in the community. Without one helping the efforts of the other, we are doomed to fail. In human history, rarely was there a situation as dire as it is now, when educating our family, friends and community as a whole is so vital. This is the only way to save our lives.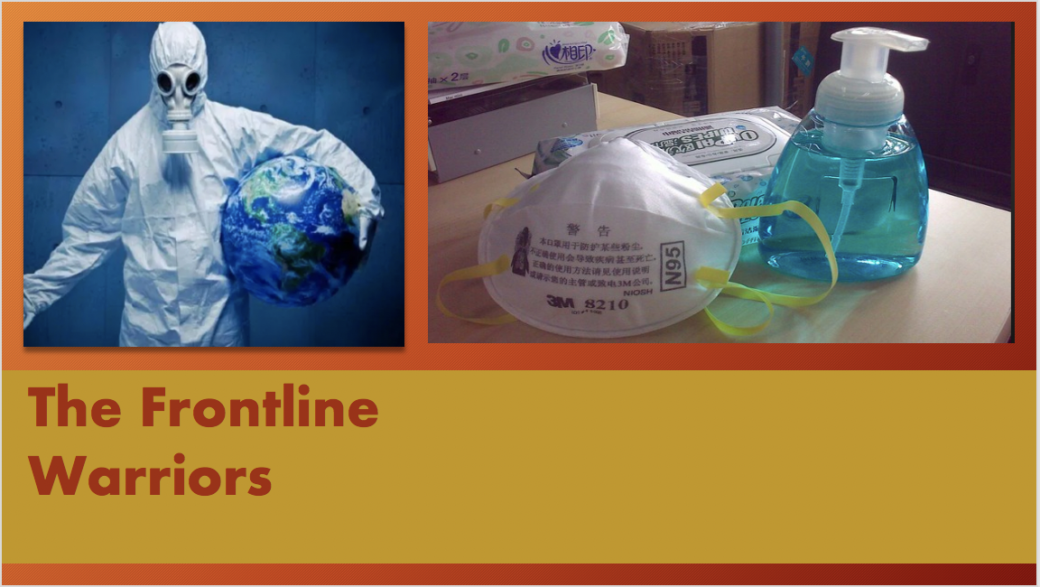 After a physically exhausting and psychologically unsettling day, when I comeback home, I watch anxious faces of the newscasters in the TV. I see the images of army vehicles lining up in Italy to carry coffins. The graphs are constantly changing as the number of people infected with Covid-19 rises exponentially over the globe.
I see economies collapsing worldwide. Even my little sneeze alarms me and reminds me of my own enhanced vulnerability to this invisible virus due to my profession.
The story of two planets
Then again, I see the images of people in sunny Florida and other beaches, enjoying a life without concerns as if business is as usual. In the same fashion, I see some media outlets and the highest authorities of the nation presenting with alternative facts, not recognizing the crisis as it should be recognized.
Are we living in two different planets? Are there some people who feel so invincible that they ignore the reality? Is it in fact a failure to deliver effective health education from the medical community to the general people that they failed to recognize this existential threat? Or, is it the political belief that makes some people so blind that they become danger to themselves and to others?
We do not have the answers to many of these questions, like we do not have the answers for a cure or a vaccine to prevent the deadly Covid-19 at this time. At this instant, our cutting edge medical scientists, along with the rest of the world are trying their best to get the answer to manage Covid-19. As a nation, and part of humanity, we are hopeful that we will find an answer soon.